History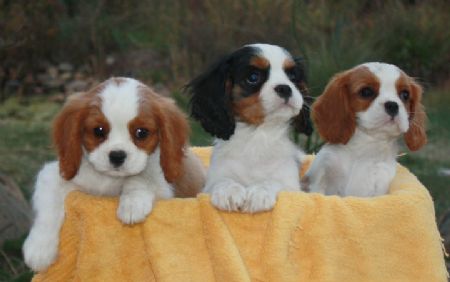 The Cavalier King Charles Spaniel of today are directly descended from the European toy spaniels of the fifteenth century. It is not certain which country they originated from, but there were toy spaniels in most of the European Royal Courts between the fifteenth and eighteenth centuries.
King Charles 11 was particularly fond of the toy spaniels, and gave his name to them.
Over the years it became fashionable to breed the King Charles Spaniels with a shorter face, until the only toy spaniels were the King Charles Spaniel that we know today.
In 1926 an American, Mr Roswell Eldridge, visited Crufts dog show in London, and was so concerned that there were no Toy Spaniels with the longer nose, that he offered prizes of twenty five pounds at Crufts for "The Best Dog and the Best Bitch exhibited in a class for Blenheim Spaniels of the old type, as shown in the pictures of Charles 11's time: "long face, no stop, flat skull, not inclined to be 'domed' with a spot on centre skull".
These prizes were offered each year for five years. A handful of breeders subsequently set about breeding back to the old type, long nosed spaniels, and it is from these dogs that all our Cavaliers are directly descended.
In 1928 The Cavalier King Charles Spaniel Club was founded in England by those pioneering breeders.
The word 'Cavalier' was added to the name King Charles Spaniel to differentiate between the long and short faced dogs.
In 1945 the Kennel Club in England acknowledged the Cavalier King Charles Spaniel as a separate breed from the King Charles Spaniel.
Since that time the Cavalier has become one of the most popular toy dogs, not only in England, but all over the world.
(Written by Pippa Turner)
.